Let's face it, whether you envision tall centerpieces in your design scheme or not, many reception spaces look best by adding height of some sort. Soaring décor draws the eye up and makes any space seem grander. It adds to the overall WOW factor upon seeing the completed space as a whole. Furthermore, it creates dimension in photos; full room shots look really stunning with décor at varying heights!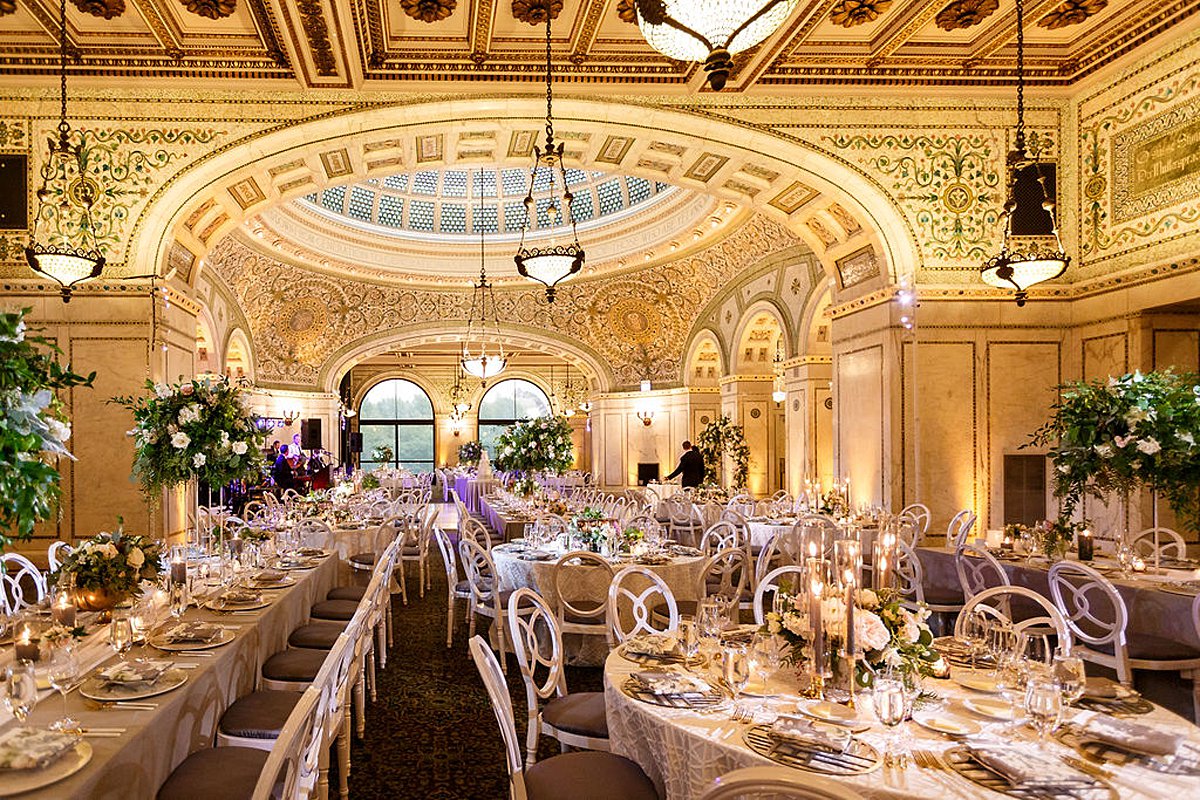 ---
Traditional Tall Centerpieces
Adding height to your décor scheme can be done in many ways. Expectedly, there is the traditional choice to have "tall" or elevated centerpieces. You will choose a large vase or vessel, and then we place the huge arrangement atop it in the center of the table.
The look of the arrangement is tailored to your style and budget; it can be made in a variety of sizes and styles. One thing to consider is the height of the actual vessel. All of the vases and vessels we offer will elevate arrangements well above the head of your guests. A "tall" centerpiece should never obstruct guests' views, or it's certainly not tall enough. At least 30" is recommended; however, we think between 32-36" is a great height. Once you put the arrangement atop of a vessel of that height, it's standing at least 5 feet off the table, which accomplishes the grand look!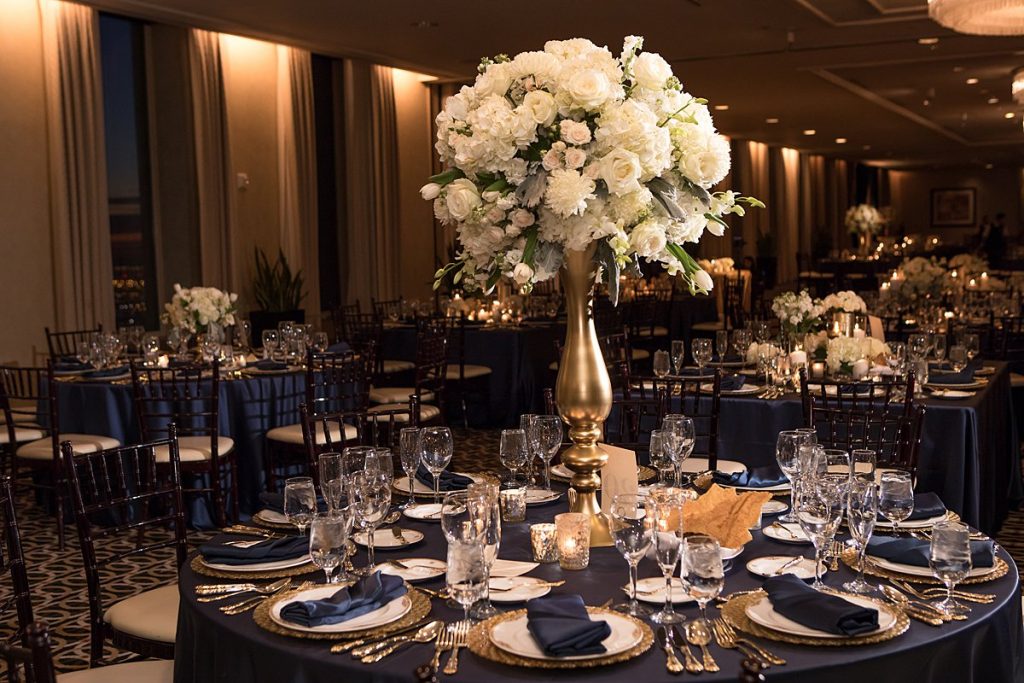 ---
Non-Traditional Tall Concepts
Several clients don't prefer the look of tall centerpieces; however, they still seek height to enhance the overall impact of their decor. Fortunately, there are other options. We've used these stunning 6-foot pedestals to elevate massive urns of greenery within a space. This is one of our favorite looks! It's unique and unexpected, and therefore it's memorable. When we utilize these pedestals, we let these be the element of height within the design and opt out of the traditional tall centerpieces. This seems to give a more residential look overall, which is so sophisticated.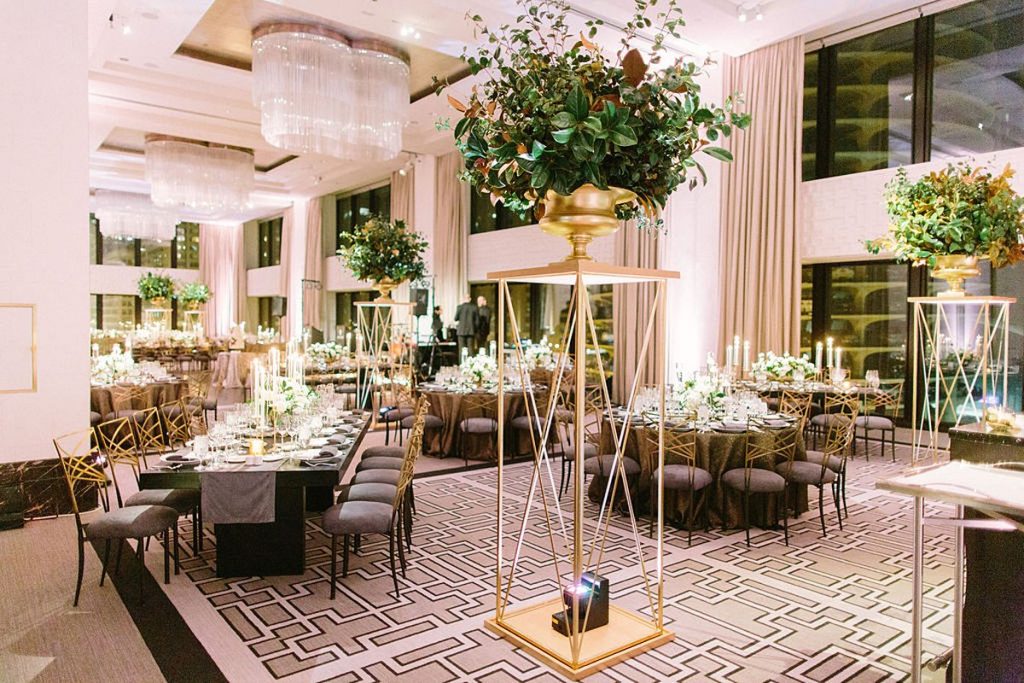 Another look that many are choosing to embrace is an elevated horizontal piece. We are seeing an abundance of long tables at receptions, and a long elevated piece can be a real showstopper! We've produced this look on guest tables and on head/feasting tables for the bridal party. It can even be embellished with hanging candlelight for some real drama!
---
Suspended Options
There are certain venues where a suspended piece can be an option. Here, at the Peninsula Chicago, we suspended a 10 ft. wide halo made of fresh floral and greenery above the dance floor. We suggested this mainly because it balanced out the room. All the tables are located on the east side of the room, and the dance floor and stage area for the band is on the west. Since we had many tall centerpieces on the other side, the suspended halo over the dance floor was both striking and purposeful!
Note that a suspended concept can also be as simple as hanging floral from a chandelier (as you see here)! Whether a suspended piece is small scale or large, it's sure to give you a look that will set your event apart from the rest. Be sure to schedule your consultation so we can begin the design process for your wedding!
Our featured image at the top of the page was taken by Tim Tab Studios at the University Club of Chicago