REAL WEDDING SPOTLIGHT
"Warm, Sophisticated, and Residential"…this is the vision we interpreted for Madison and Will's stunning December wedding at The Langham Chicago. It was such a pleasure to work with Madison and her mom, Kim, to carefully curate all the details- from linens, tables, chairs, stage fronts… the works. Everything worked together to not only achieve this vision and compliment The Langham's existing aesthetic but also to spoil all the senses and leave a lasting impression on them and their guests.
December is such a lovely time of year for a Chicago wedding. Beautiful holiday décor that exists in some Chicago wedding venues can really enhance the overall look and feel of your event. Madison and Will chose not to have and holiday elements incorporated into their reception décor, but as you can see, The Langham's lobby was decked out with stunning holiday trimmings, which made for a beautiful photo backdrop. Bonus!
The bridal and bridesmaid bouquets were crisp white with peeks of greenery. Simple, yet they had richness about them. Again, no winter or holiday greenery. Timeless.
This incredible Chicago wedding reception was brimming with class. We wanted the décor to look effortless- like it was meant to be in the Devonshire Ballroom. We considered the drapes, carpeting… everything down to the black window frames when creating our design and choosing linens, chairs, tables, and accessories. Every single tiny detail was intentional, and it was not only cohesive with the room, but it achieved our goal of sophistication, warmth, and a more residential look as opposed to something more "expected" for a wedding.
All floral centerpieces were displayed in gold compote bowls, and we accented with taper candles and stemmed glass candleholders for warmth and ambiance. We used peonies, tulips, garden roses, anemones, spray roses, and lisianthus in our designs as well as mixed greenery including magnolia, camellia, gardenia, and ruscus.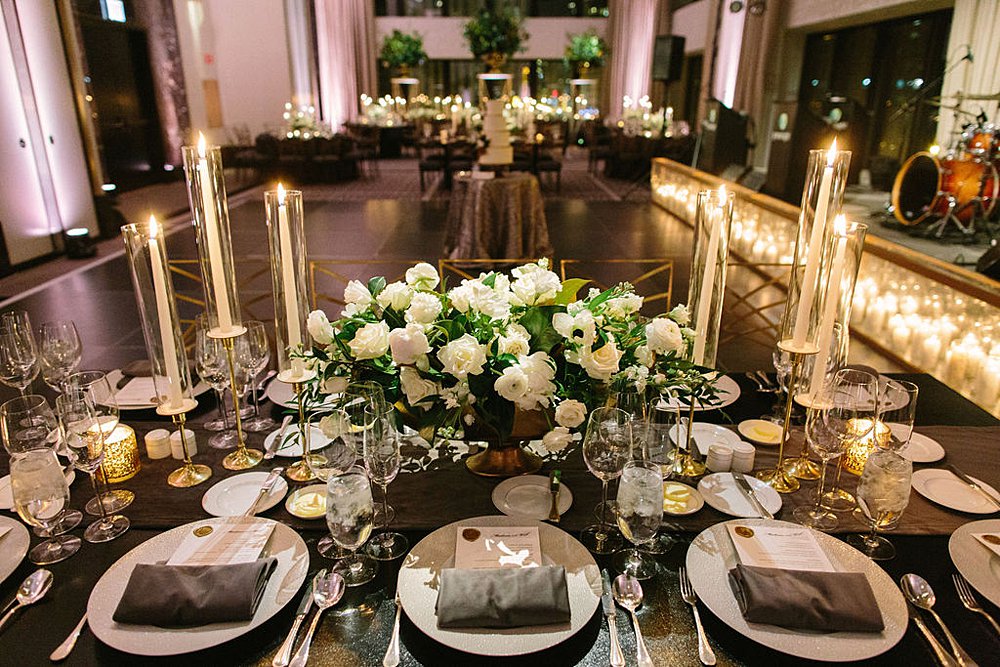 The feasting table for the bridal party was situated along the windows, overlooking the Chicago River. A lengthy floral runner beautified the center of this focal table along with candlelight at varying heights.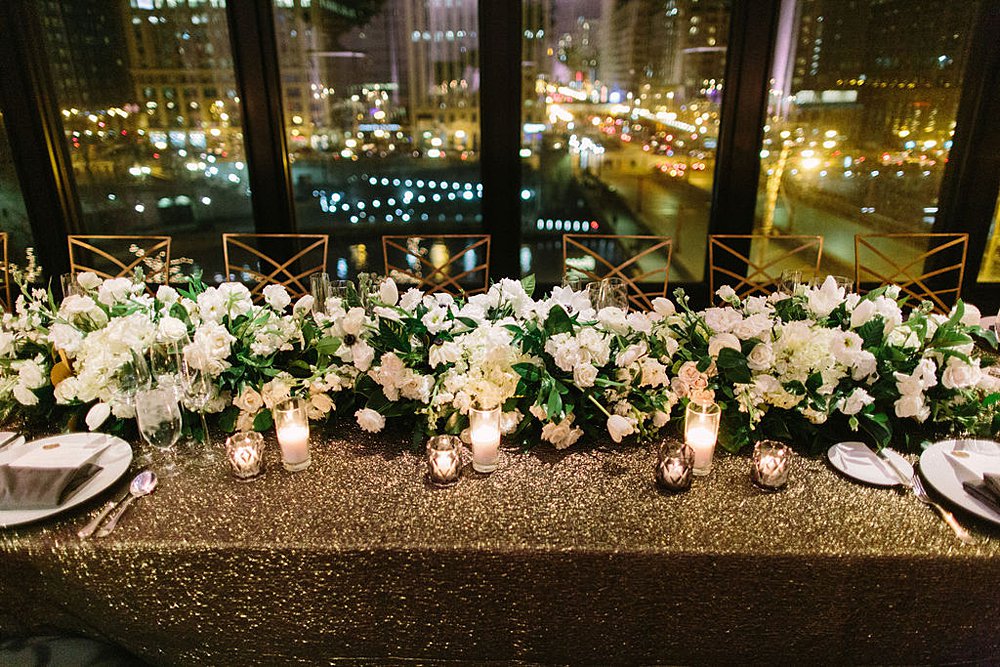 To further develop the residential look, we intermingled 6-foot custom gold pedestals from with the guest tables; they elevated immense gold urns filled with magnolia and camellia. This concept served as our element of height, an unexpected, creative alternative to tall floral centerpieces.
The linen choice was spectacular for Devonshire Ballroom. For the bridal party and round tables, "Brass Monaco" from Nuage Designs coordinated perfectly with the colors in the drapes, carpeting, and walls. It is a textured brass with black undertones. The napkins were charcoal velvet, perfection for that warm, cozy, luxurious feel. Greenstar Paperie created custom menus with wax seals that culminated the look.
Since the guest count was 150, it gave them the freedom to have a creative floor plan due to ample space. We also decided to incorporate some rectangular guest tables; black flat-panel tables with charcoal velvet runners complimented the lines within the existing décor. The antique gold chameleon chairs looked regal while still being light and airy.
Other gorgeous décor elements included the wedding cake from Flourish adorned with magnolia leaves, the custom handwritten seating assignments on a large leaner mirror courtesy of Reenie Rose, and the incredible custom candle illusion stage fronts made by Northern Décor. Talk about warmth!
It was wonderful working with Clementine Custom Events as well as Tim Tab Studios on this amazing wedding! For more information on Madison & Will's wedding décor or our services, please contact us.
Vendor Team: