As a company and a team, one of the many events we are proud of is beautifully executing Jenny McCarthy and Donnie Wahlberg's wedding floral & décor in August 2014 at Hotel Baker in St. Charles, Illinois. So many of our clients ask about the experience, and we always tell them what a wonderful (and whirlwind) experience it was. We worked closely with their wedding planner, Shuki Moran, and had only 1.5 months to plan and perfect a décor concept. The directives we were given were: Create something glamorous, luxurious, and use Jenny's favorite flower- red roses.
To ensure this rose-filled evening be luxurious, we used the finest quality Ecuadorian roses, 4 different varieties of red, actually. They were massive in size with velvety texture and different depths of rich red.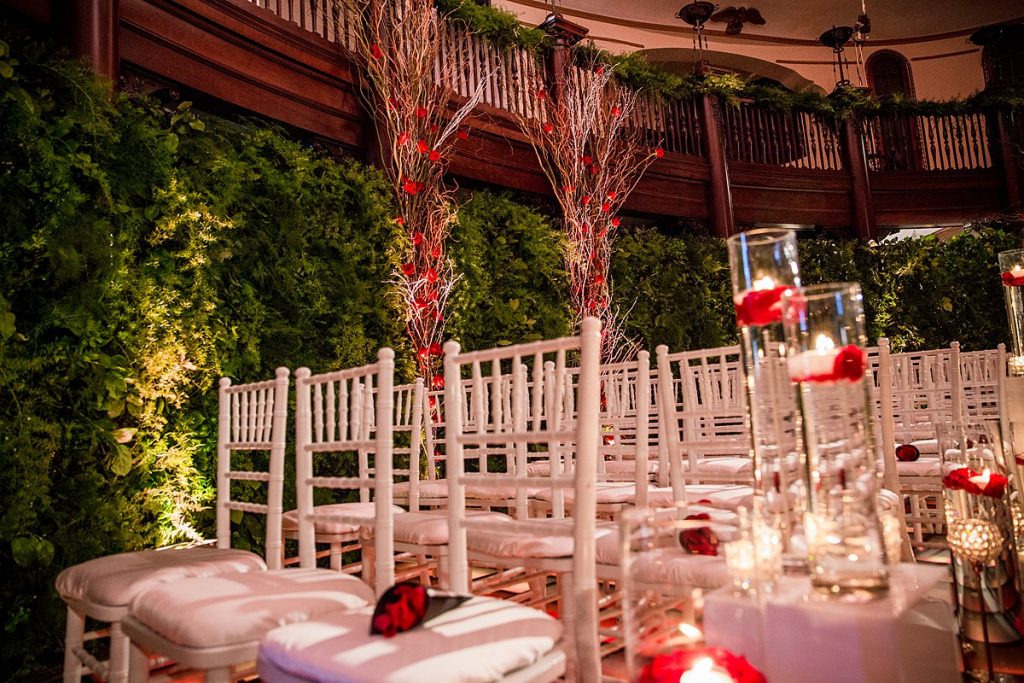 20 team members and 12 hours of on-site design later, the red rose affair came to life. For the ceremony, we transformed the historic Rainbow Room at Hotel Baker into a dreamy rose garden. Our team created walls of lush greenery to place in between all columns and enclose the space, giving the room a more intimate feel. The aisle was defined with dense piles of red rose petals and candles leading to a lush rose ceremony structure.
Following the ceremony, guests moved to the patio for cocktails where they were greeted with an abundance of greenery and rose heads covering the Romeo & Juliet balconies as well as the large railings leading into the Waterfront Room where dinner would be served.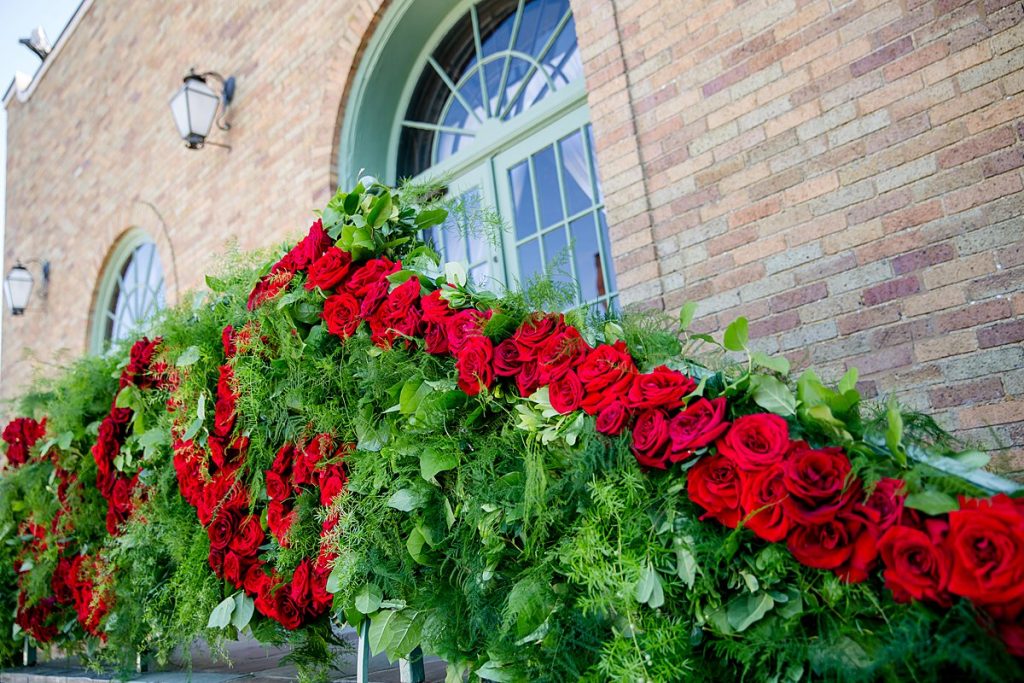 The reception dinner stayed true to the glamorous, luxurious vision. Shuki brought in special mirrored tables, chairs, chandeliers, and candelabras with jewels hanging delicately from each arm. The layers of our carefully curated tabletop design included mirrored containers for the mounds of roses, smoke glass illusion hurricanes in varied sizes, crystal votives, and pillar candles elevated on glass candleholders. The mirrored tabletops and containers allowed for the velvety red roses and twinkling candlelight to bounce and illuminate the space. Many guests offered comments that roses of that nature and size had never been seen!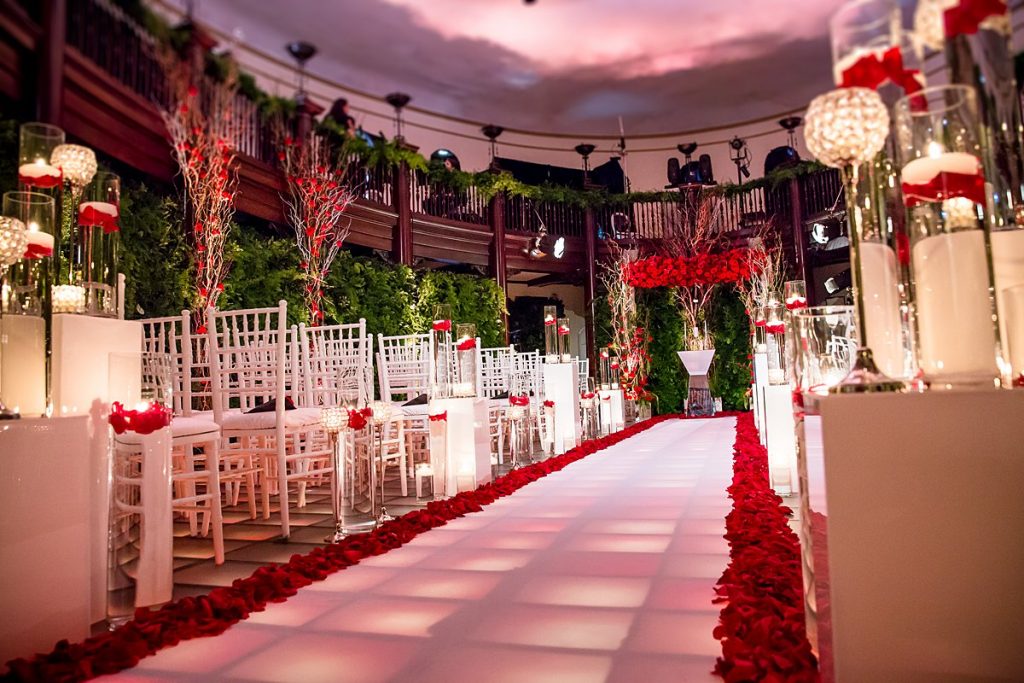 For me personally, this opportunity was ironic and serendipitous. New Kids on the Block is a huge part of my childhood memories! At the time, my pillowcase had my obsession, Jordan, on one side and Joey on the other (sorry, Donnie). Also, as a teenager, I saw every episode of Singled Out on MTV and loved Jenny McCarthy as the co-host. Fast-forward 25 years to my company being hired to create an incredible space for their wedding using thousands of red roses … never saw that one coming! My staff and I were fiercely determined to create something elegant, picturesque, and completely unforgettable. It was such a huge team effort, and all of our hard work and focus paid off. Jenny and Donnie are the nicest, most gracious people; we couldn't have been more honored to be a part of the event.

Photo Credit: Lilly Photography